English version below.
Une des raisons pour lesquelles j'ai jailbreaké mon iPhone est pour pouvoir disposer d'applications non autorisées par la censure militaire d'Apple.
Une de ces applications que j'ai acheté sur Cydia est Firewall iP.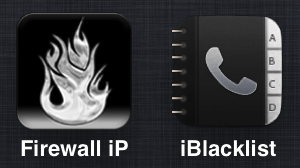 C'est l'équivalent de Little Snitch ou HandsOff sur MacOS : elle permet d'être informé des connexions sortants qu'initient les apps, de les autoriser ou les refuser de manière provisoire ou permanente.
Quelle ne fut pas ma surprise de voir que l'application WordPress for iPhone tentait de contacter tout une série de site péruviens :
perunegocios.com
perukids.com
perujoven.com
perubusiness.com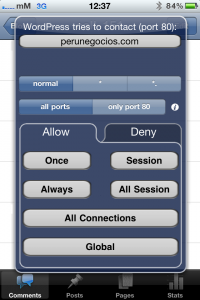 Je précise que je n'ai configuré sur cette applications que les informations d'un blog (celui-ci) qui n'a rien à voir avec les sites en question… Je me demande bien quel genre d'informations sont échangées avec ces 4 sites (envoi / réception, etc).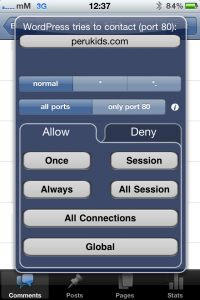 Ce n'est pas vraiment une surprise, j'ai déjà remarqué ce genre de comportement dans énormément d'applications, mais il s'agissait souvent de connexions vers des sites de statistiques ou de publicitaires. (que j'ai également bloqué le plus souvent). Dans le doute, et avant d'essayer d'en savoir plus (visiblement, ça communique sur le port 80, donc en théorie de manière non cryptée), j'ai bloqué ces connexions de manière permanente.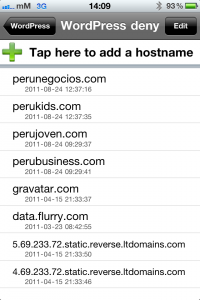 J'aurais l'occasion de reparler sur call-151.fr de Firewall iP que j'aime beaucoup, tout comme de iBlackList visible sur une copie d'écran et plus généralement des intérêts du Jailbreak.
English version :
One of the reasons I jailbreaked my iPhone is to install and use FireWall iP which is very similar to what Hands Off or Little Snitch do on the Mac : it show you what application are doing in terms of outside world connections. You can then decide wether you want to allow or discard each connection, on a temporary basis or permanently.
It came as a surprise that WordPress iPhone app was trying to contact what appears to be peruvian websites :
perunegocios.com
perukids.com
perujoven.com
perubusiness.com
Of course there is no good reason for that so I blocked them and will try to sniff them in the near future since it uses port 80 (htpp) and communications might be unencrypted. A lot of other apps are also phoning home, but until now, most of what I saw was only looking as ad companies or google..